Article Series Galore! Visit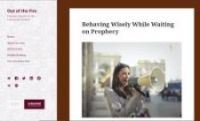 On the Funny Side
Our family-friendly Boomer humor section:

About Lee Ann
Lee Ann Rubsam is the author of numerous books in the Christian and home schooling fields, including Character Building for Families, The Intercessor Manual, and The Names of God. She specializes in writing about intercessory prayer and building Christian character.

Lee Ann has served as editor/contributing editor for a number of Christian newsletters and has written for Home School Digest, Life in the USA, The Best of FaithWriters, and Liberating News. She also occasionally writes humor articles with family themes, from a Midwestern baby boomer perspective.

Lee Ann and her husband Paul are committed to helping intercessors reach their highest level of effectiveness in prayer. In addition to providing extensive teaching at the Out of the Fire blog, they accomplish this through prophetic prayer workshops. Contact Lee Ann for further info on how to bring one of their workshops to your area.

Do you need reprints for your newsletter, magazine, or webzine? The articles found here are copyrighted, so don't just snatch them! Contact Lee Ann for permissions info and arrangements.

For more about Lee Ann's books, please visit Full Gospel Family Publications or our flagship mega-homeschool and Christian site, Character Building for Families.

Email: leeann@leeannrubsam.com
Other Resources
To find out about our Christian growth and home schooling books, visit our publishing web site:
Home Schooling?

Character Building for Families
Christian Homeschool Mega-Site
Lee Ann's Ebooks:
Other Recommended Reading