Article Series Galore! Visit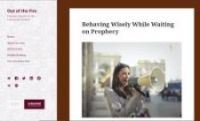 On the Funny Side
Our family-friendly Boomer humor section:

Welcome!
Browse our prayer and Christian growth articles. We have many more at Lee Ann's Out of the Fire blog.
Current Happenings:
This week only, through March 8!

We are celebrating Read an E-book Week by offering 25% off on all our e-books at Smashwords.
Enter coupon code REW25 at checkout.
Be sure to add our booklet, God's Word on Healing to your cart -- FREE during this promotion.
Smashwords offers multiple e-book formats to suit every e-reading device.
---
Prophetic people living near the Fox River Valley, Wisconsin:
Paul and Lee Ann will be hosting an 8-week CD series by John Paul Jackson, Developing Your Prophetic Gift, in our home.
Thursday evenings, 6:30-8:30 p.m. February 6 - March 27, 2014
This is in-depth teaching for anyone who is serious about growing in exercising revelatory gifts. We will begin with worship and progress to John Paul's teaching and discussion of it. There will be opportunity for personal prayer and prophetic ministry as well. Join us, as we grow in the revelatory gifts together, through teaching and hands-on application.

Contact Lee Ann

with any questions or to register.
---
Free Media Mail shipping on any books, any size order (U.S. Only)
-- PLUS --
30% off quantity purchases of 5 or more of these titles (U.S. Only):
Quantity discounts available on other books as well.
---
Plan a workshop / seminar with Paul and Lee Ann

Would you like to host an intercessor workshop with Paul and Lee Ann? We have some exciting topics planned for you (and we can do others besides these, depending on your group's needs):
The Prophetic Intercessor:
Yes, You Can Be an Intercessor!

Hearing the Voice of God

The Power of Your Prayer Language

Hitting Your Prayer Target

Hands-on Training -- The Prophetic Prayer Gathering

Breakthrough Intercession
Growing in the Prophetic:

Yes, You Can Be Prophetic!

Interpreting Your Revelation (Literal or Symbolic?)
Growing in Personal Prophecy (a hands-on session)

Misuse and Abuse of Prophetic Revelation

Unlocking Revelation in Your Dreams

Pastors and Intercessors: Getting Along
Spiritual Warfare:

Warring from a Position of Light

The Weapons of Our Warfare

Avoiding Deception

Understanding Our Boundaries

Worship and the Intercessor
The Holy Spirit:
The Baptism in the Spirit: Why You Need It and How to Get It

In this session, we lay foundations from Scripture on what the Baptism in the Spirit is, and why it is essential for every believer. We also explain why having and using a personal prayer language is so important.

Our simple approach to receiving the Baptism with the evidence of speaking in tongues enables anyone to easily receive their prayer language -- even those who have had difficulty receiving in the past will be able to speak in tongues at the end of this session.

The Gifts of the Spirit

We explain the nine gifts mentioned in 1 Corinthians 12:8-10, and how they can be used not only to build up the local body of Christ, but also how we can use them to bless and evangelize people outside the Church.

Hands-on practice will be given in how to function easily in the prophetic gifts and in how to pray for healing for the sick.
Contact Lee Ann to schedule a workshop in your area.
Other Resources
To find out about our Christian growth and home schooling books, visit our publishing web site:
Home Schooling?

Lee Ann's Ebooks:
Other Recommended Reading