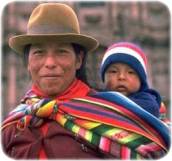 The Peru Chronicles
In June of 2007 Paul and I experienced our first-ever overseas excursion together. We went to Peru with our church family, and it was not your average missions trip. The following links tell the story, starting with the stuff leading up to the adventure. These were originally done as blog posts for all our friends and family, and they tell both the funny and the serious sides of Missions 101 as viewed through my untraveled, innocent eyes. I have led a very sheltered life!
Please Don't Go to Peru!
Leavin' on a Jet Plane
They Got Healed
Tanya's Story
When in Peru, Eat as the Tourists Do
The Hostel Takeover
Home, Sweet Home
© Copyright 2007 by Lee Ann Rubsam. All rights reserved.